Hello and welcome to the new Twisted Fields technical blog. Twisted Fields is a research farm in San Gregorio, on the beautiful California coast right next to Silicon Valley.
Today we are very proud to announce a project we have been working on for just under two years. Acorn is a precision farming rover we have developed in house to aid in farming automation research. Acorn is solar powered, lightweight, and completely open source.
Our plan is to build a community around the Acorn system, get kits into the hands of early adopters as soon as possible, and work with this community to develop tools that can help make sustainable agriculture automation a reality even for small and medium sized farms.
We think precision farming rovers like Acorn can be used to fight climate change, make healthier food for all, and protect farm workers and our communities from overuse of harmful chemicals. We are making the whole project open source so others can help improve the design and start their own businesses supporting their work. We believe this is the best strategy for making this technology functional, low cost, and accessible to all.
Today we start building this community and we need you to take part.
First, please subscribe to our youtube channel. This is a quick and easy way to see updates if you're a regular youtube user. And make sure to click the "bell" icon when you subscribe to see every one of our youtube updates.
If you want to take part in the discussion around Acorn, sign up for our free community discussion site, right here at community.twistedfields.com. This is your place to come and connect with us and other members of the Acorn community.
With that out of the way, I want to talk a bit more about Acorn.
Daniel Theobald founded Twisted Fields several years ago with the goal of combining his robotics and industry knowledge with his passion for solar energy and food production. Two years ago when Daniel and I met, we found we had both long dreamed of advancing the way we make food. Before long, we dusted off his earlier farming robot plans and began work on what would become Acorn.
(Acorn, July 2019)

We imagine solar powered farming robots that work when the sun is shining. We can free up the tractor driver with self-driving software. Use photons instead of diesel fuel. Aluminum tubes and mountain bike parts instead of cast iron and steel. Light weight means reduced soil compaction, and solar never needs refueling. Our motors move by twisted electromagnetic fields.
For solar power, a new vehicle is a must. And so that's where we've started. We figure that no matter what the vehicle will ultimately do, it's going to need to be capable of visiting every plant at the farm. We call this part of Acorn "the vehicle". What we have today is a prototype version of the vehicle.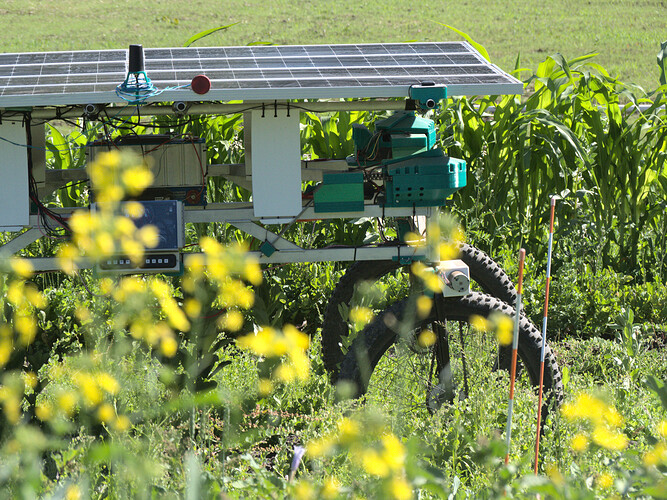 On any given day right now, Acorn is likely driving around Twisted Fields, parting the occasional group of chickens as it goes along. Acorn drives itself using precision GPS and python code. On level ground the vehicle draws about 60 watts, and the 800 watt solar array gives us plenty of overhead. We have an extensive software stack under development, custom electronics, and our own mechanical design.
We're working on continuous daily operation, and designing version 2 of the vehicle platform which we will offer as kits once we've assured reliability.
Acorn will ultimately be three parts: a vehicle, a vision system, and a suite of tools.
This is all a tall order. In my opinion trying to tackle all of this in a single organization is a recipe for failure. And so, we're focused on developing this system as a community development project.
This kind of development more than any other tends to contribute to rapid innovation across a community of users. The price of 3D printers dropped 100x in ten years once the patents expired and community development started. That's what we want to do with Acorn. We will sell vehicle kits and vision systems, then work with the community to develop computer vision datasets and tool designs for all to use. By the end of it, we'll have discovered what kind of machine can really help expand regenerative farming for all.
In this way, Acorn is a seed, now planted, that we hope will grow into a beautiful community of users and tinkerers and machines, all working together. Will you join us?
Taylor Alexander (they/them)
Robotics Engineer, Twisted Fields.
Notes
Read or listen to an interview with Daniel about the farm, here:
I first wrote of my hope for this type of open global collaboration back in 2018:
When writing this post I kept thinking about this lovely poem I only recently learned about: