Did you know Salt from the Aral Sea is found in Scandinavia and Antarctica?
Do you know how many people suffered from the consequences of the ecological disaster in the Aral Sea?
More than FOUR MILLION people live in the ecological disaster zone, which covers a significant part of Uzbekistan and the southern part of Kazakhstan, 40 million people live in the Aral Sea basin.
The effects of human activity have changed the composition of the water. The salt concentration increased 10 times (1), and the salt concentration in groundwater reached 6 g / l. This is 6 times (!) The concentration that the WHO considers safe.
Moreover, traces of Aral salt have been found in such remote regions as Scandinavia and Antarctica. Annually, about 150 million tons of toxic salt is carried from the bottom of the Aral Sea for hundreds of thousands of kilometers.
The Aral Sea and millions of people need a solution!
One of the solutions to this is the creation of forest plantations at the bottom of the Aral Sea.
Since 2019, saxaul seeds have been planted on the dry bottom of the Aral Sea. This process is carried out in several ways:
with the help of tractors and human hands;
seeds are sprinkled from planes.
Since these processes take place during the winter months, they require heavy human labor. And a lot of resources are required.
This is why my team and I are trying to create an autonomous solar-powered saxaul growing machine. Below I give a link to the 3d model of the car that we are creating, and a video of the car body that we are creating. We faced a number of problems. We need help. The machine we have created must move through the holes dug by these two tractors.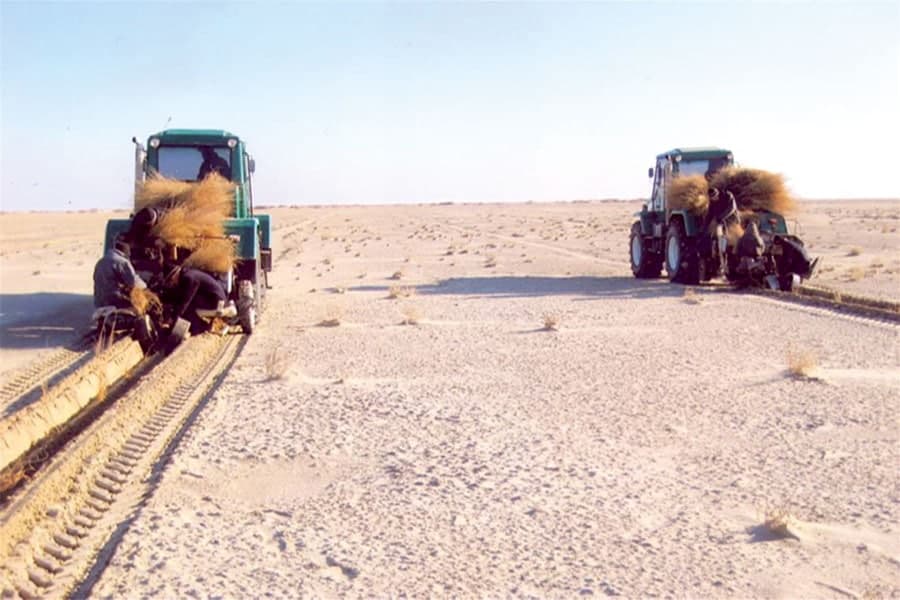 We need a camera using software and artificial intelligence devices or a GPS system to help us navigate between these two depths.
What devices or platforms can we use?
I saw the Acorn robot on Youtube. Acorn also used GPS recognition. What advice can you give us? Thanks in advance for your answers!